ABOUT US
 Empire Music Promotions is a leading music PR and music marketing company focused on ensuring that all of our clients receive both prominent, and quality, news-worthy press  results; every single time.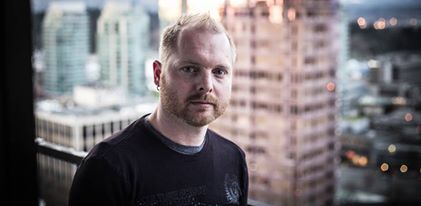 Empire Music Promotions was created out of Ryan Donnelly's desire to put his many close industry press contacts to positive use for musicians everywhere. Ryan Donnelly is the author of the powerful new music promotion book, From Indie To Empire: The only DIY music marketing tool needed for today's indie musicians, along with being both, an accomplished music journalist, and professional photographer. He has worked with bands such as The Tea Party, Every Hour Kills, and Laura Hickli. Some of the many notable publications where Ryan has been profiled in, are the Artistview (artistviewblog.com) and Soundscape Magazine (soundscapemagazine.com).
FEET TO THE PAVEMENT
Here at E.M.P, we truly believe that every band or musician that we choose to work with is unique, and that each client of ours deserves a custom campaign that reflects that core belief. We understand that what works for one band simply will not work for another, and using both tried and true methods of the past, along with current successful industry methods, Ryan focuses his efforts on reaching out to the multitude of publications personally, to guarantee that every one of our musicians receive the very best support possible from us. To our clients this support means that our Founder Ryan Donnelly always stays approachable, that he listens to his clients and their needs, and in many cases, will even reach out to specific magazines, blogs, vlogs, or even venues to play at if required, on the clients behalf. The concept is simple, if you are one of our clients, it is because we enjoy your music and we want it to be heard, and we want you to be a part of the growing Empire Music Promotions family.
THE CORNERSTONE OF YOUR EMPIRE & OUR MUSIC ETHOS
We want to support bands and artists with music worth listening to.
This means that we do not choose just any, or every, musician to work with, because our network of writers, editors, and publications expect the same level of quality and professionalism from us, as we do for ourselves; and that quality starts with the music we accept.
We work with artists that 'WE WANT" to promote.
This is our guarantee to both our clients, and ourselves, that we will give our best effort to land you in better publications, and also provide you with more quality results that are to be found through a shared desire to see a successful and exciting campaign, because we both share in the excitement surrounding your incredible music!
It is our desire to build lasting friendships with our clients, through a common respect and focused vision of creating a useful trail of guaranteed PR reviews, articles, and interviews. We want to make sure that our clients have something tangible to show their fans, potential labels, and future venues to play at.
We do not promise riches, or fame, or anything that no one else can actually deliver on; instead we offer you the truth, that you will need this PR to open the doors of a fulfilling musical career, and that we will not stop working for you until we have delivered on what we have promised in the campaign you have chosen. Rest assured, that we will focus our attention on your personal needs as an artist, so that this experience will leave you feeling like you have not only invested in yourself, but that you have also made the decision to support a business that truly cares about their musicians.
OUR APPROACH
Empire Music Promotions has one single purpose: To get you (our clients) the necessary quality publications needed to generate truly effective social media momentum. Your music deserves to be heard, and we want to make sure that happens. Not only offering help on the front-lines of music PR, we also offer our clients the support needed on the back end as well, this includes, and is not limited to, Social Media Support (how to build an effective socially aware music campaign using today's most popular sites, Press Release Help (we help you build a professional and proper Press Release guaranteed to get noticed more), and Venue Support (Not sure where to play next? We will work with our many close connections to help search out a proper venue for your genre of music).
What we do is whatever we can to help you succeed, because we want you to succeed, and we are always just as excited to show you your powerful press, as you will be to receive it!
This is about getting you the much needed word-of-mouth that builds empires, by gaining you exposure in better publications, blogs, vlogs, and other critical online publications!
OUR BOOK
FROM INDIE TO EMPIRE-
The only DIY music marketing tool needed for today's Indie Musicians
Created out of Ryan's desire to help serious independent musicians, all over the world, in gaining their own exciting press results on a limited budget! This book is filled from front to back with industry tips, motivational thoughts, and proven music PR and Music Marketing methods!
From Indie To Empire is quickly becoming the book of choice for professional and serious independent musicians all over the world!
DO YOU WANT TO GET STARTED TODAY!
We look forward to hearing your music worth listening to!
TAKE A LOOK AT OUR PACKAGES HERE!
ALREADY KNOW WHAT PACKAGE YOU WANT? SUBMIT YOUR MUSIC!
Press Links
INTERVIEW: http://www.soundscapemagazine.com/empreview/
INTERVIEW: http://artistviewblog.com/behind-scenes-empire-music-promotion/
FROM INDIE TO EMPIRE: http://www.soundscapemagazine.com/empire-music-promotions-releases-diy-music-promotion-book/